Justin Trudeau is just like Stephen Harper!
Zachary Voth
Ottawa, ON.
November 21, 2016
---
Never underestimate sunny ways. Recent campaigns by the Public Service Alliance of Canada and the Canadian Federation of Students have passionately attacked some comparatively mild policies from the Harper era that the Liberal government has decided to keep. (The bargaining arrangements for public servants and support for the bare minimum of pipelines, specifically). These attacks have largely followed the line "You said you'd be different!" and "You're just like Stephen Harper was!"
Conjuring up the spectre of our last Prime Minister to try to shame the current one is a good idea in theory if you're one of these advocacy groups. After all, his low-key personality and focus on policy (to summarize criticism against him in the least unkind terms possible) being contrasted with Trudeau's optimism and youthful glow was a huge factor, if not the most important one, in the last election. PSAC and CSWF's attempts to conflate the leaders are intended to draw out some of that public anger against Harper that was so fashionable this time last year, and direct it at Trudeau, so the groups can get what they want.
So far it does not, however, appear to have worked. The campaigns I've mentioned above have not impacted Trudeau's sky-high popularity. He has the power to hop, skip, and jump over such criticism like the nimble snowboarding instructor he once was.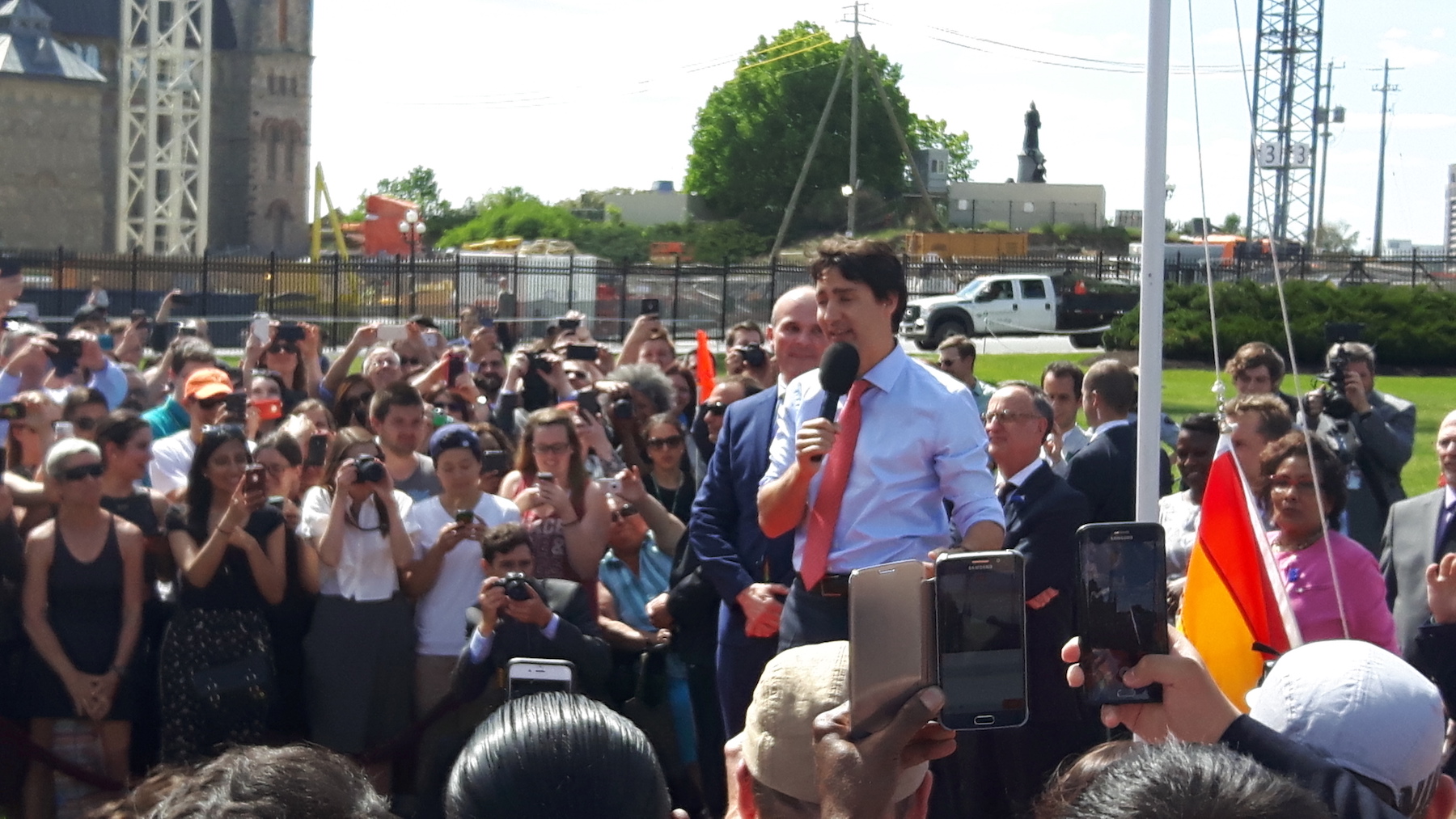 Prime Minister Justin Trudeau raises the LGBT flag on Parliament Hill on June 1, 2016. (Zach Voth)
It might even be possible that this strategy of equating the two leaders will backfire completely. The policies that our favourite pressure groups love to hate were easy to campaign against when we had a Prime Minister in office who many people did not personally connect with. (Never mind the policies, if Harper likes them, they must be bad.) These same policies, however, re-skinned in a fresh Liberal veneer, now inspire no public sympathy for the advocates whatsoever. (Trudeau's handling it, so it's probably fine. At least Harper's not in charge!)
So, rather than putting our current Prime Minister in a negative light, these comparisons might actually cast some sun towards Stephen Harper. It's the policy that's important, after all, and if the Prime Minister wants to use his talents to sell a Conservative idea, that's a giant compliment. After all, how bad could the policy have been if the Liberals are using it?
And, now that the result of the American election is absorbing all of our attention, will anybody even care?